Louis Prima is the best.
Not the fastest, not the highest, not the most technical, maybe the loudest, but definitely the best. A big ol' bowl of the best spaghetti you ever ate.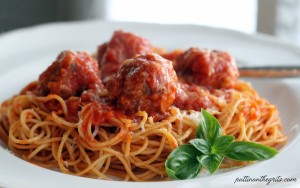 Who else would write "Sing, Sing, Sing (With A Swing)" (1936), let alone make it an instant hit?
I mean, what is he doing with this? Who cares! It's great!
The Benny Goodman band quickly arranged their own version, inserting some other popular tunes where Prima was quoting earlier stuff. Their 1937 studio recording and famous 1938 live recording in Carnegie Hall practically launched the swing era.
These were rare extended recordings from that era, with an arrangement that gave the soloists some space. The result was 20-something year old musicians widely disseminating some game changing stuff. Who wouldn't want to be Gene Krupa after hearing that?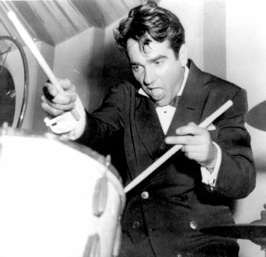 We've digressed.
Louis' personal life and business dealings were as out of control as his stage persona. He pressed forward through the war years with a string of goofy Italian pasta-face caricatures that payed for bands, boats, horses, and divorces.
When I confess my love for Louis Prima, I imagine many think I'm talking about these Italiano songs, which is fine, they are fun songs and Louis always sells it, but I'm mostly talking about the magic that resulted from the introduction of young Keely Smith into his act in the early 50's.
Now Louis' stage antics had the perfect deadpan romantic counterpoint.
At this point he's in danger of becoming a relic, allegedly contemplating retirement, but suddenly the old standards he never stopped playing had a fresh setting and new life: Louis and the boys make a strong push, but Keely has heard it all before and knows the score.
They married – his fourth – and had a steady gig in Vegas through the 50's. Saxophonist Sam Butera and his band The Witnesses gave the music youthful energy.
They wrote that together. It's swing, but it's also early rock and roll. Old meets new.
His New Orleans origins were in there throughout. All hail the Louis Prima tag ending!
The David Lee Roth and Brian Setzer revivals of his songs are perhaps better known today, but I suggest future Prima revivalists take his charts somewhere else, like Goodman did. You are not going to top Louis Prima at the Louis Prima thing.
Louis and Keely got divorced, because of course they did, and his life and career went on from there.
New wife Gia was much more straightforward and adoring on stage.
There was another revival of sorts with the Disney movie.
And now life goes on without him.
Louis Prima is the best.